In this short tutorial we will help you understand what a URL is and how to copy it from your browser, so you can link and share your listing. If you want to report a page to us, we will require a URL to take action.
What is a URL and where is it found?
URL stands for Uniform Resource Locator

A URL is a web address that your browser uses to navigate the internet.




Example: https://www.cybo.com/US-biz/local-restraunt-name

It is found in the

address bar

at the top of your web browser.*

Some browsers may not show the first part

(https://www.)

in the address bar, but it will show when you copy the URL.
*see the image below

How do I copy the link (URL)?
First Navigate to the business listing page on Cybo

Highlight and Copy the link (URL) found in your browser's address bar.




Shortcuts for copying and pasting:
First highlight the URL in the address bar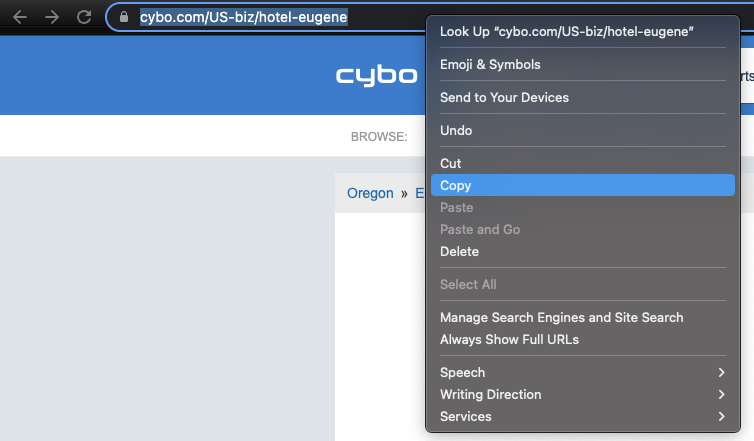 Mac: press the following keys at the same time

Command

and

C

to copy

Command

and

V

to paste





PC: press the following keys at the same time

CTRL

and

C

to copy

CTRL and V to paste