A contact number is an important means of communication for any business. At Cybo we work hard to keep our data as up to date as possible. We want to make it easy to change and update phone numbers to help customers and businesses stay connected.
We also respect requests for privacy and allow phone numbers to be removed.
How do I Remove my Phone Number from a Business Listing that I Do Not Own?
The article contains the following sections:
Login/Create a user account
Cybo requires users to have an account to edit a business contact number. Luckily signing up is fast and easy. If you would like assistance with creating a free account check out the below article:
Get to the Edit Business Page
From the page of the business you wish to change there are two ways to get to the edit page:
On the left side of the page, under the business's basic information. Click on the pencil icon.



Click the "Edit Business" button at the bottom right of the page.

Change/Remove a phone number
From the business edit page, you will find a few sections with lots of business details. The first section titled "Basic Information" is where you can change the phone number.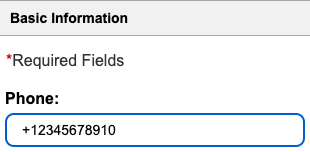 Once you have changed the number you will want to scroll to the bottom of the page to let us know if you have read and understood our Terms & Conditions before clicking the "Submit" button to confirm
Edits are immediately in our system. They will not show up online until the next site updates, usually within a few days.