Help customers find your business by listing on Cybo! There are additional benefits to a Cybo.com listing. When you enter your website URL in the listing, you are creating a new backlink. Listing your business in our directory can be an important step towards improving your SEO.
The article contains the following sections:
Login/Create a user account
Cybo requires users to have an account to edit a business contact number. Luckily signing up is fast, easy and free. If you would like assistance with creating an account check out the below article:
Get to the Add Business page
There are two ways to reach the Add Business page:
At the top of the page under the search bar click the "Add a Business" button

At the bottom of the page click the "+ Add Business" button



Check if business already exists
The first step to adding a business to select a country and enter a contact number.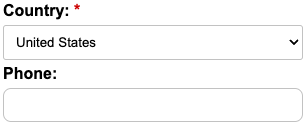 This helps us check to see if we have any other business's with the same contact number.
If there is a match we will list them to check if your business is already there. If so, you will need to claim your business.


Click on "EDIT BUSINESS" if your business is already listed or
click "CONTINUE ADDING, IT IS NOT LISTED ABOVE" to proceed to the next step and begin adding your business. If there are no matches the page will go straight to adding business details.
Filling out business details

Each section has many of fields to fill out:
Basic Information
goes over the name, phone, address, and category of your business
Online Presence
connects your business to its socials like Facebook, Google, Instagram, Twitter, and more
Contacts
helps connect relevant people to your business, and provided their position and contact details
Other Information
helps dial in the type and features of your business including hours of operation
The last step before submitting your edits is the Terms & Conditions.
Once you click "Submit" your business will be saved on Cybo and viewable to our users!
You may find your business is already on Cybo. Click here to claim your business.